FIRE!
In July of 1996, my house burned to the ground, evoking this
brilliant photograph on the front page of the Maui News: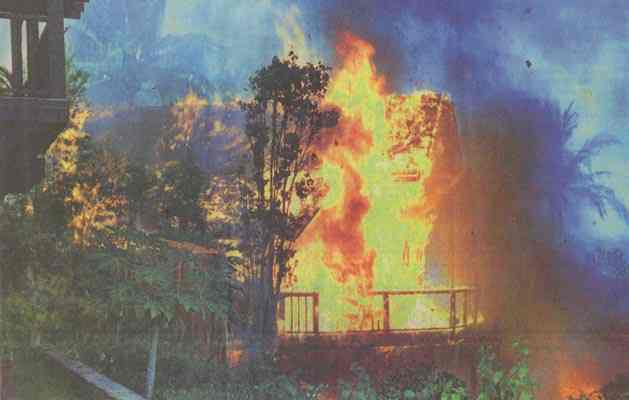 Two months later, this poem emerged, reflecting my attitude on life:
MYSTERY WOMAN!
WHO ARE YOU NOW?
WHO? WITHOUT VEILS AND MASKS?
IS THE REAL YOU, I ASK?
O! PELE! THANKS FOR YOUR GIFT
OF SACRED FIRE!
MY POSSESSIONS AND RECOLLECTIONS
BURNED UPON YOUR SO PERSONAL PYRE.
IF THIS IS YOUR BLESSING,
AND THIS IS MY GIFT,
SURELY IT'S TIME NOW
FOR A PARADIGM SHIFT!
I PHOENIX MY WAY OUT OF THE ASHES,
MY PROPS FROM THE PAST,
OF ADVENTURES AND PASSIONS
NO LONGER REQUIRED,
ONLY CLARITY DESIRED.
MANY'S THE LESSONS I AM NOW LIVING,
MY HOME IS WITHIN,
I CAN COUNT MY BLESSINGS!
STARS AND COMETS,
MY PREFERRED CEILING,
RELATIONSHIPS DEEP AND FULL OF MEANING.
WHO AM I NOW?
A UNIT OF LIGHT,
A POINT OF AWARENESS
THAT OBSERVES "MY" DELIGHT.
A ME THAT'S EXPANDING,
WHO FEELS DEEPLY AND KNOWS,
WHERE I PLACE MY ATTENTION,
THE ENERGY FLOWS.
I'M A WOMAN OF HEART,
SO SPICY AND JUICY,
MY JUDGEMENTS OF OLD,
HAVE AT LAST TURNED ME LOOSE-Y.
WITH NEW FREEDOM,
I MERGE WITH INEFFABLE SOUL,
I KNOW NOW IT'S SAFE
TO RELINQUISH CONTROL!

AFTER THE FIRE
JANUARY, 1997
IN THE BREAST OF THE GODDESS,
I FEEL MY STRONG HEART,
IT'S BEATING, REPEATING,
TIME NOW FOR A FRESH START!
WITH RENEWED JOY,
I FEEL SO COMPLETE,
TO DANCE AND TO HEAL,
NEW RHYTHMS TO BEAT!
MY HEROINE DWELLS
IN THIS HEART SO PURE,
THE ESSENCE OF ME
THAT ALWAYS ENDURES.
SPIRAL OF COLOR,
VIBRANT AND TRUE,
FLOW THROUGH MY BEING,
FOREVER NEW.
LT